As always in natural disasters, pets need help as well as their humans. In the unprecedented flooding now occurring in Houston, and other parts of Texas, and headed for New Orleans and other areas of Lousiana, there are a number of needs immediately for leashes, food, water, emergency transportation, and more. Here are links to keep track of what you can do.
First, in general, please note as the article states that initially donations of money are most helpful except in specific situations which will be posted by local agencies and in social media.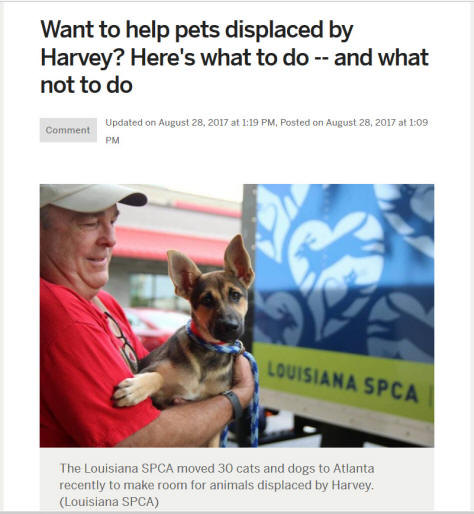 NEW ORLEANS PICAYUNE -- KEEPING TRACK AS STORM CONTINUES
READ WHAT YOU CAN DO TO HELP PETS
Donations to Tx SPCA and Humane Society still needed!
DONATE TO SPCA TEXAS
DONATE TO SPCA HOUSTON
UPDATE 8/30/17
Hurricane Harvey hits Beaumont, TX and Louisiana. Here's what you can do to help pets and owners in all affected areas: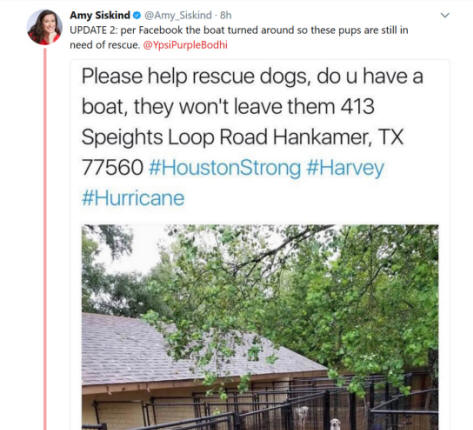 GOOD NEWS UPDATE! THE DOGGIES HAVE BEEN RESCUED!!!

SPECIFIC CALL FOR HELP IN HOUSTON

Dogs and shelter owners stranded by unnounced release of water from dams

Owners soaked. Boats, leashes, food needed urgently 8/29/17.

Donations still needed via Paypal: