Fire Relief:
Become a Pet Parent

Provide a loving home for a scared, but loving bundle of fur
ONGOING, Nov. 2009: SUPPORT THE HUMANE SOCIETY of the U.S., YOUR LOCAL SPCA, AND RESCUE ORGANIZATIONS IN YOUR AREA. We are not through with floods and hurricanes, and right now we are fighting huge fires in Southern California. Pets now, and in the future, will constantly need to be cared for at shelters, and the numbers swell during disasters.
SOUTHERN CAL. RESIDENTS: By adopting a furry bundle of love you can clear space for the influx of displaced pets needing shelter in these enormous firestorms in Southern California.
Some of the places in L.A. you can contact to adopt a pet are listed below. All will help the rescue groups be able to bring in more evacuated pets:
Below you can read the history of care provided during the time just following Katrina-Rita. Also, if you live in the L.A. area, the list of rescue organizations above could always, always use your help!
* * *
DEC. 12, 2005: Loving bundles of fur, both doggie and cats, are now out of quarantine and ready for permanent homes. Adoption Day in L.A. and N.Y. was wonderful. But more homes are needed to make room to save more pets in the Gulf. REPORT: Over 200 pets were adopted this day!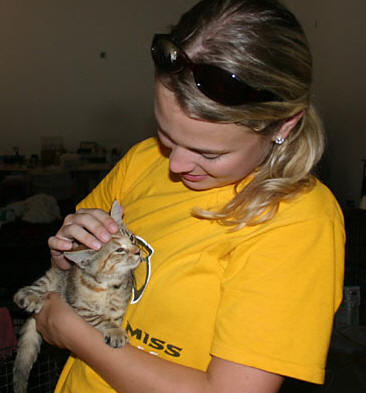 Above, volunteer purred to by rescued kitty in Gulfport, Mississippi, after hurricanes.

In L.A., at Katrina Super Adoption, from Pawprints volunteer Lisa Hough:

The most heart touching story I heard was of the woman who had lost her fiancÚ the month prior. They were going to adopt a dog together. She came Sunday, alone, to adopt the dog they had been looking for. When she saw Grady, a large, older, Australian mix of some kind, and started to pet him, she burst into tears. Grady was her dog. She knew it and he knew it. she went outside and cried for 30 minutes or more before she could come in and fill out the paperwork.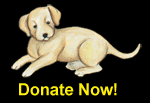 *URGENT 9/26/05 AND CONTINUING DEC.: MORE PETS BEING RESCUED IN NEW ORLEANS, AND MORE COMING TO SHELTERS AROUND THE COUNTRY FROM ALL OVER THE GULF.
Animal shelters around the country were swamped before the hurricanes. Now the need is more critical than ever. More homes need to be found so that as more pets are rescued from the horrible conditions left by the hurricanes, they, too, will have a place to be cared for until their humans can be found.
What you need to know to be a foster care parent: You will need to be willing to house, feed and love traumatized pets for up to 90 days, depending upon which organization you are paired up with. During this period, attempts will be made to help your new friend get back together with his/her family, and you must agree that you will give the pet back to its former owners if they are found. NOTE: Pets are now out of quarantine and permanent homes are needed even more than fosters. You won't have to part with the furry bundle you adopt!!! And boy, it's amazing how loveable and loving these wonderful dogs and cats are, especially with all they have had to go through.


And Pawprints Literacy Plus was at the Katrina-Rita Adoption Day in L.A. at the Barker Hanger in Santa Monica Airport. We can't thank our Super Syd enough -- she helped New Leash and all the other wonderful L.A. rescue groups organize an inspiring day of dog and cat pairings with grateful new parents. What a day! Dozens of dedicated organizations and volunteers working together to help find homes for these deserving pets. You can still find a wonderful pet -- see above for where to find a furry love.