Hi, there --
If you thought we were for kids, you were only partly right. Actually, kids have been reading "Pawprints" to their parents, and adults have been reading the book for a while themselves. Sometimes to their dogs. We know. They asked Ina to autograph copies in their pets' names. And now, we're building a special place for adults, including seniors, who care to drop in and spend a little time "a-MUSE-ing" themselves.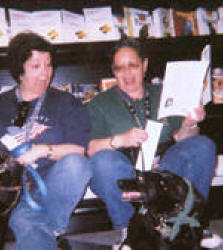 So, as promised, Introducing ---
A corner for adults to share their own reminiscences of times spent being made happy by fuzzy, flying or creeping creatures.
Or whatever! As long as it's clean. See the new stories penned by our adult contributors. Many are first-time writers, who thought they never could write, because "It's so hard." They were quite surprised and pleased to see it wasn't as bad as they'd feared. Others are professional writers and editors looking for a structured class to help jump start them on their life histories. Just hit the buttons below to see our growing collection. And keep coming back...more to be posted.
Videos from the Footprints Writing Clubs!
Kay Roberts reads about Cookies and other dangerous foodstuffs
David Brooks reads a tale of the time in his native Poland just before the Holocaust
Sophie Chudacoff reads of strange happenings on The Orient Express
Howard Westley reads a hairy tale of flying in WWII
Musician Ira Westley tells a tale of a time he was in a show with Lenny Bruce
Hip Hop artist WilB and Cliff Tasner surprises the troops







And introducing our intergenerational 5 week program, where students learn old folks aren't fogies, and old folks learn the kids aren't whippersnappers.
Start your own Footprints Writing Clubs for Grownups! We have tips and tools to start you on your way. And a brand new book for senior writers, and even younger than senior writers, Fun prompts that Make Writing -- and Reading -- Your Life Stories a Pleasure! Also, we offer training and classes for organizations. To find out more about the book, click below: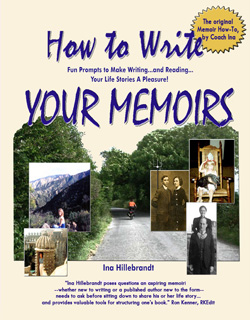 NEWEST!

Our class' third book of memoirs, Stories From The Heart Vol. 3. A great companion for "How to Write Your Memoirs," with Prompts from Ina, and stories our students wrotes based on more prompts...We challenge you not to get inspired to write!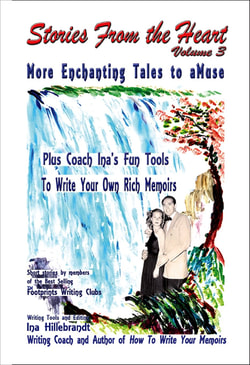 EXCITING FOR US! Our class's second book of memoirs,

Stories From The Heart, Vol. 2, was named a top seller by Amazon.com! Check out stories from the book, or buy the book by clicking the picture below: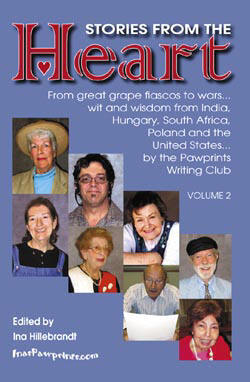 And

Stories From The Heart, Vol. 1 is a wonderful read, too!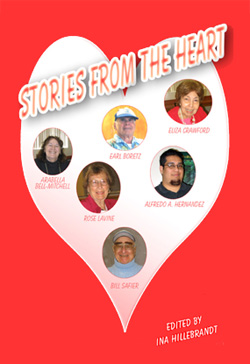 Writing prompts for adults! Visit our new writing prompts screen to add to your ideas for your own stories, whether you're forming a club or writing solo, and see how some of our writers have jump-started their own stories from some of these prompts.
Buy a copy of Pawprints to inspire your own writing genie to come out of the bottle!

And we have another new book to aMUSE you, plus more coming. Click here
"You really helped me realize I could write. Thank you so much for helping me bring that out." Arabella Bel-Mitchell, Felicia Mahood Class

"We had no idea our Dad could write like this! It's a whole new side of him we're really happy to find."
Adult children of Earl Boretz



Read a Pawprint Buy Pawprints

"Wise, warm, witty whimsy no animal lover would wish to miss!" Gerald Fried, film composer

"I thought I would read one story. Instead, I read the whole thing. I couldn't put it down! The stories are really charming!"
Shirley Oreck, Felicia Mahood Class

Visit our Online store for "Pawprints" gifts and goodies, including the official "Pawprints Journal" to inspire you to write! More writing tools coming! Click the "shop" sign below!