Sign up for our FREE NEWSLETTER, delivered directly to your inbox! Just click the link to e-mail us. Be sure to put "Newsletter" in the subject line!
Sign me up!

Pawprints, by Ina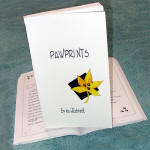 The Amazon.com bestselling book that's aMUSEing animal lovers of all ages, and people who celebrate the
little moments in life!

"I love this book! The stories make you feel you are right there!" Teresa Proscewitz, City of Los Angeles Dept. of Recreation and Parks, L.A.

"'Pawprints' is a potpourri of charming little stories, with a surprise on every page...Vivid observations of life, written from a very different, engaging point of view."
Sierra Club Newsletter

More Reviews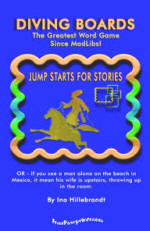 Available only from us
$14.95 "I picked up 'Diving Boards' and knew it was one I had to own and send to my friends. It's joyful and though-provoking...One of those gems you pull out when you want inspiration."
Annette Darrell, Manager, Tribal Arts Gallery, Carmel, CA

NOTE: THIS ONE IS A GREAT MOTHER'S DAY GIFT!!
Do you have scraps of paper sitting in an old shoe box?

Have you thought you'd like to get those scraps organized, and maybe the family will quit bugging you?

Or are you a writer new to the memoir form?
Then You Owe it to Yourself!



MONDAY MORNINGS. AUG. 9 - OCT. 25. 10:00 a.m.-noon.
PLACE: Orange County. TBA.

In our 10 week series programs, Ina is able to focus on members' work in-depth, and employ special tools to help participants help each other as well. Our students learn how to recall details, write and organize their memoirs so that they are richer, and find -- or retain -- each writers' unique voice. And we have fun in the process! Ina's publishing imprint, Pawpress, is also available as an avenue to getting your books out in print, and published in downloadable e-book form as well. So join us if you'd like to:
Break through writer's block! Ina's Weird Prompts™ and books, including "How to Write Your Memoirs" make it easy, and fun!

Organize your ideas.

Fire that inner critic!

Practice a bit of fiction to free up writing muscles.

Create memoirs even people who are not your mother will savor!

Enjoy sharing your stories with people from different worlds.

GET PUBLISHED WITH US! Our second collection is an Amazon.com bestseller.

Or, get guidance on publishing yourself, and marketing your book.
Testimonials...What people who have attended Ina's Footprints Writing Workshops say....

"Ina has the gift of getting people to open up. She got me writing in a direction I never would have gone on my own." Chrystine Julian, poet, "The Sensual Spirit"

"Opens the floodgates to memories long buried but not forgotten." Kay Roberts, first-time book contributor, actor and stand-up comic

"Ina's spirit is magical. I've become one with my gastrointestinal tract." Larry Yurdin, Corporate Computer Consultant

"This is a really great class!" Ed Rosenthal, current attendee, working on his memoir of being lost in the wilderness without food or water for seven days. He will appear, telling this story, on the Discovery Channel's Ultimate Survivor, July 2013

"This class has been a kick in the butt to my writing. Tremendous! It's so motivating because of the process we do here. I can just be freed up to let the words flow. My critic is gone. He's somewhere in the Bahamas. I realize OMG, I've got so many stories to write, and it's not traumatic, the way it used to be. And listening to others telling stories, reminds me of others of my own." Michael McCarty, Internationally Renowned Storyteller, Current attendee

Attendees, Saturday workshop for IWOSC

"After seeing you do this workshop, I feel I can trust you, Ina. I look forward to working with you."

"I really got my money's worth!"

For more information, click here. Please contact Ina to find out if you have questions, and how to set up a series for six to ten folks. You can also sign up to receive information in your email inbox about other upcoming series around the Los Angeles area.

PLEASE NOTE: SPACE IS LIMITED. THESE WORKSHOP SERIES SELL OUT FAST. Sign up below and reserve by July 26 to insure you have a seat. And remember -- these series make a great gift for someone you love, and whose stories you will treasure.

You can sign up online to reserve your space using our secure online Paypal server, below.

Footprints Memoir Writing Workshops Memoir Writing Series Saturday mornings, Aug. 9- Oct. 25. Both for folks who have not yet written, or have written and would like help starting and figuring out a structure and game plan for completing a book of their life stories, for family and friends or publication.
Need more of a reason? Have you been thinking about writing your life stories, but stumped about where and how to start?
Join Ina! Here's what will happen ....
You'll break through writer's block!

Ina's Weird Prompts

™
and books, including
"How to Write Your Memoirs" make it easy, and fun!
Organize your ideas.
Fire that inner critic!
Create either fiction or memoirs even people
who are not your mother will savor!
Enjoy sharing your stories with people from different worlds.
GET PUBLISHED! Our last collection is an Amazon.com bestseller.
"Makes my week!"
Howard Westley, first-time author, "Stories From The Heart, Vol. 2"
"After all these years of scraps of paper, finally magical sense! And seeing myself in print makes me feel complete."
Jane Madeline, first-time author, "Stories From The Heart, V. 2."
"It's just plain fun!" Sophie Chudacoff, 94 year old dynamo, writer/fund raiser for City of Hope

And a few more:
"Expands my mind."
"Enlivening, spirited discussions in writings."
"Interesting and inspirational."
"Wonderfully uplifting."
"The participants are nice, the group inclusive; I've made a lot of new friends."
Ongoing free classes for seniors Monday mornings 10:00-11:45 am. Felicia Mahood Senior Multipurpose Center, 11338 Santa Monica Blvd. Los Angeles, CA 90025.
Open to new writers and published authors. Fun and you get into our books!

CREATE A BEGINNERS OR ADVANCED CLASS FOR YOUR OWN GROUP WITH INA IN SOUTHERN CALIFORNIA: Contact Ina by e-mail. (To reduce the awful spam, we have started using this form. Just click over the dots to insure you're a human, and the full address will appear. We apologize but spam is awful as is theft of our email address to spam others!)

I...@inaspawprints.com
Also available: Private coaching in writing memoirs, fiction, publishing. Looking for:
Motivation?

Help in structuring your memoirs?

Practical writing tips and tools?
Interested? Contact
Ina: I...@inaspawprints.com

You'll get to experiment with a wide range of prompts and easy exercises that jog your memories. You'll find it easier than you thought to transform treasured moments into beautiful stories on paper. You'll also get ideas for structuring both short stories and books. And you'll get an opportunity to be published, online here at www.InasPawprints.com and in books (see next paragraph).

Special techniques draw on Ina's experiences as a writer and publisher of Amazon.com best selling books, newsletters and articles, and in working with people around the country. She also draws on her books, How to Write Your Memoirs: Fun Prompts to make Writing…and Reading…Your Life Stories a Pleasure,©, Amazon.com bestseller Pawprints, the book of furry memoirs, and the Stories From The Heart © series, compilations of writings by members of her Pawprints Writing Club™. (Vol. 2 became an Amazon.com Top Seller; the third in the series was published in spring of this year. Scroll down to see more.)

LIBRARY "BOOK REPORT" ON INA'S MEMOIR WRITING WORKSHOP

We are pleased to report that we had a full house (65) at Ina's recent Memoir Writing Workshop sponsored by the Burbank Public Library. People who came included an Emmy Award winning comedy writer, a creative writing teacher with an MFA in her field, actors, and folks from many other walks of life, countries and eras.

Many thanks to Program and Publicity whiz, Louise Paziak, and staff for all their support. Thanks also to Ms. Paziak for writing Ina:

"I wanted to thank you for providing our patrons with a wonderfully creative afternoon. It was exhilarating to see such a diverse group of people turning out for the class and determined to improve their writing...Creative writing is still vitally important in this era of text messaging and cell phones. Everyone had a story to tell and it was really fascinating to listen to them share their memories. I thoroughly enjoyed sitting in on your class." Don't live in the Los Angeles area? Click here to start a memoir writing club in your home town.

Click here to find out more about a Creative/Fiction Writing club if you're not in the L.A. area...

If you live in Los Angeles, you are also welcome to come to our free class Monday mornings for seniors. Click for de-tails.

New! We Writing Class Training for Groups! FOR SENIOR CENTERS/ COMMUNITY GROUPS/ CORPORATE ORGANIZATIONS: Ina Hillebrandt, founder and Executive Director of Pawprints Literacy Plus, is available to train your staff. Unique, easy to learn creativity and motivation tips and tools that make it easy to help your adult and senior members and staff to get all the benefits of writing their memoirs -- a heightened sense of well being, enthusiasm for living, knowledge they are creating a valuable gift for themselves and their families.

Classes also available for your members, residents.

Both training and classes includes optional book production and design. For more information on senior living staff and training programs, click the button below:


NOTE TO ALL: We publish the best short stories on our site -- you may want to submit your own short stories for consideration.
Corporate training for creative writing/team building also available from Ina, a Fortune 500 Consultant for 20+ years for clients such as SEARS, VISA, IBM, etc.
For more information on Senior or corporate classes or training, email us. If you wish to speak with Ina personally, just include a number where she can reach you.
Click for more information on Kids' Literacy, Writing and Reading programs, and the Pawprints Kids Writing Clubs.
More Writing Tips 'n' Tales on
Ina's Blog
Home