We have a wonderful pair of photos to share with you, sent to us by Ms. Harriet Held, of Los Angeles. As she said, see if you can tell which is the real Blenheim Cavalier King Charles Spaniel!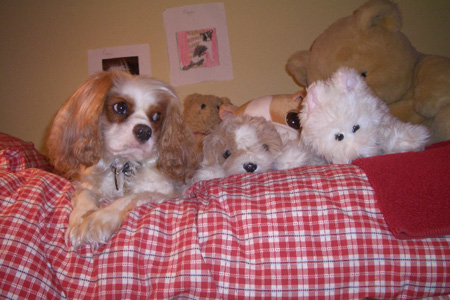 Below you'll also find Ms. Held's charming story about the breed. And links to the Cavalier Club and Rescue Site, where you, too, can find one of these outstanding furry blessings.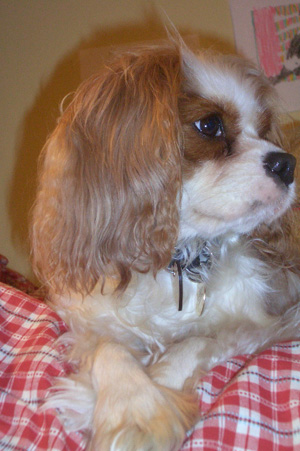 From Ms. Held:
While I am partial to Phoebe, and she is the neighborhood favorite dog, like Will Rogers who never met a man he did not like, I have never met a Cavalier that did not have a wonderful, loving temperament.

By the way, they are working dogs. Cavaliers were bred not only as aristocratic bed warmers, but to kill ferrets in the palace, and I can assure you that my home is ferret-free.

Cavaliers were the dog of choice of King Charles II, hence the name. When Mary Queen of Scots was about to be beheaded, she hid her two dogs under her skirts; with those hip bolsters she could have hidden more. As the story goes, and as depicted in a Victorian painting, her dogs refused to leave the body after the Queen was dispatched. The story is told as an anecdote about the loyalty of the breed.
Here is the link to the Cavalier rescue site:

http://www.luckystarcavalierrescue.org

You can also go the Cavalier Club, about which Ms. Held said, "I lucked out and got Phoebe from their puppies for sale listing": http://www.ckcsc.org
For a young friend (8 years old) of Ms. Held's thoughts on Phoebe, click the link to Sarah B's Ode:

Postscript from Ina: A fond adieu
We are sad to say that Phoebe's owner was struck down by an incurable illness during the summer, 2007. A concerned friend, Patrick Mooney, contacted me to let us know, and to enlist our aid at Pawprints in finding a home for the wonderful Phoebe. The terrific news is that a perfect home was found in very short order. In addition to Mr. Mooney, many people were responsible for helping achieve this goal, including Judy Tyler, big hearted rescue networker and dog lover, estate executors Robbie and Pearl Greenberg, friends of the new owner Jackie and Diana, and of course Phoebe's happy new mom Paula.
For more about the story, including the joys of adopting, click this button:
A note about Harriet from a good friend...
Harriett's lovely soul was visible through Phoebe's beautiful brown eyes and loving personality. Harriett will be missed, as will little Phoebe, who truly was, as Harriett wrote, the "toast of the neighborhood." This e-mail is sent to memorialize a loving woman who gave her heart and soul to her Phoebe.
Shelli Sloan