(Formerly known as the Pawprints Writing Clubs™ and Ina's Writing Clubs™)
New! Fun videos featuring Ina and members of the Footprints Writing Clubs perform live!
New Live Memoir Writing Workshops Series in Pasadena, at the Famous Castle Green!

Sorry...this one is filled. Please come back or contact us for the next one!

Do you have scraps of paper sitting in an old shoe box?


Have you thought you'd like to get those scraps organized, and maybe the family will quit bugging you?


Or are you a writer new to the memoir form?

Then You Owe it to Yourself!


<![if !vml]><![endif]>
Your workshop leader is Ina Hillebrandt, author of the easy to use and inspiring guide, "How to Write Your Memoirs...Fun Prompts to Make Writing...and Reading...Your Life Stories a Pleasure!" A Fortune 500 consultant, Ina is a nationally known speaker whose books and other writings have appeared on TV, radio and online. "Pawprints" reached the Amazon.com
Top Seller list, as did vol. 2 of "Stories From The Heart," by Footprints students she coaches.


Break through writer's block!

Ina's Weird Prompts™ and books, including
"How to Write Your Memoirs" make it easy, and fun!


Organize your ideas.


Fire that inner critic!

Create either fiction or memoirs even people
who are not your mother will savor!


Enjoy sharing your stories with people from different worlds.

You'll get to experiment with a wide range of prompts and easy exercises that jog your memories.


Find it easier than you thought to transform treasured moments into beautiful stories on paper.


Get ideas for structuring both short stories and books.


Get an opportunity to be published, online here at www.InasPawprints.com and in books.

Special techniques draw on Ina's experiences as a writer and publisher of Amazon.com Top Selling books, newsletters and articles, and in working with people around the country. She also draws on her books, How to Write Your Memoirs: Fun Prompts to make Writing…and Reading…Your Life Stories a Pleasure,©, Amazon.com bestseller Pawprints, the book of furry memoirs, and the Stories From The Heart © series, compilations of writings by members of her Pawprints Writing Club™. (Vol. 2 became an Amazon.com Top Seller; the third in the series was published in spring of this year. Scroll down to see more.)

Listen to what others have said....

"This workshop opens up the floodgates to memories long buried but not forgotten."

Kay Roberts, author, stand-up comic and actor

"Ina has the gift of getting people to open up. She got me writing in a direction I never would have gone on my own." Chrystine Julian, poet, author, "The Sensual Spirit," "Meandering Mindfulness"

"Makes my week!" Howard Westley, first-time author, "Stories From The Heart, Vol. 2" "After all these years of scraps of paper, finally magical sense! And seeing myself in print makes me feel complete." Jane Madeline, first-time author, "Stories From The Heart, V. 2."

"It's just plain fun!" Sophie Chudacoff, 94 year old dynamo, writer/fund raiser for City of Hope

And a few more:

"Expands my mind."

"Opened the floodgates."

"Enlivening, spirited discussions in writings."

"Interesting and inspirational."

"Wonderfully uplifting."

"Unlocked the doors to memories long forgotten but still present."

"The participants are nice, the group inclusive; I've made a lot of new friends."


$14.95 after discount!
Peek inside or buy:

Poignant, funny, tender, frightening insightful memories narrated in the distinctive voices of Angelenos originally from a range of contents, countries and times ... Ms. G.S., a "senior senior" still active in music, arts and literacy programs in Los Angeles, said about our new collection of memoirs:
"These words are alive! The stories are so honest, they're really refreshing."

Sign up for the
Aug. 22-Nov. 7 series in Los Angeles using PayPal secure online registration:
Sign up for the July-Sept. Series now -- space is limited! Plus sign up by June 30 and get a free copy of Ina's acclaimed How to Write Your Memoirs at your first class, a $29.95 value! Scroll down for more de-tails.

Class meets weekly for ten two-hour sessions. Small class size permits everyone to get individualized attention. Special in-class exercises -- Ina's Weird Prompts™ to flex your creative writing muscles, have fun and write richer memoirs! Very small class size insures you and your writing receive individual attention.

DATES: July 9-Sept. 10

TIME: Saturday mornings, 10-noon.

PLACE: Westside Los Angeles. Location TBA.

PRICE: $395 for 10 week series.

Space is Limited! Sign up early to secure your spot!

Early bird registration free copy of Inas How to Write Your Memoirs, a $29.95 value, will apply for those who register by June 30.

LIBRARY "BOOK REPORT"

We are pleased to report that we had a full house (65) at Ina's recent Memoir Writing Workshop sponsored by the Burbank Public Library. People who came included an Emmy Award winning comedy writer, a creative writing teacher with an MFA in her field, actors, and folks from many other walks of life, countries and eras.

Many thanks to Program and Publicity whiz, Louise Paziak, and staff for all their support. Thanks also to Ms. Paziak for writing Ina:

"I wanted to thank you for providing our patrons with a wonderfully creative afternoon. It was exhilarating to see such a diverse group of people turning out for the class and determined to improve their writing...Creative writing is still vitally important in this era of text messaging and cell phones. Everyone had a story to tell and it was really fascinating to listen to them share their memories. I thoroughly enjoyed sitting in on your class."

Don't live in the Los Angeles area? Click here to start a memoir writing club in your home town.

Click here to find out more about a Creative/Fiction Writing club if you're not in the L.A. area...

If you live in Los Angeles, you are also welcome to come to our free class Monday mornings for seniors. Click for de-tails.

New! We Writing Class Training for Groups! FOR SENIOR CENTERS/ COMMUNITY GROUPS/ CORPORATE ORGANIZATIONS: Ina Hillebrandt, founder and Executive Director of Pawprints Literacy Plus, is available to train your staff. Unique, easy to learn creativity and motivation tips and tools that make it easy to help your adult and senior members and staff to get all the benefits of writing their memoirs -- a heightened sense of well being, enthusiasm for living, knowledge they are creating a valuable gift for themselves and their families.

Classes also available for private groups and organizations.

Both training and classes includes optional book production and design. For more information on senior living staff and training programs, click the button below:





NOTE TO ALL: We publish the best short stories on our site -- you may want to submit your own short stories for consideration.

Corporate training for creative writing/team building also available from Ina, a Fortune 500 Consultant for 20+ years for clients such as SEARS, VISA, IBM, etc.

For more information on Senior or corporate classes or training, contact us at 310-471-5048, or via e-mail:

annap@InasPawprints.com.

Click for more information on

Kids' Literacy, Writing and Reading programs, and the Pawprints Kids Writing Clubs.
PAWPRINTS NEWS! Periodic bone mots, Dr. B's pet care tips, your stories, Ina's stories, photos and more!

Pawprints Writers' Tools
Free Stuff:
Weird Writing Prompts
Pet photos
Grownups' Stories
Pawprints, by Ina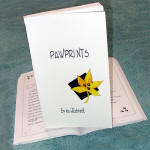 The Amazon.com bestselling book that's aMUSEing animal lovers of all ages, and people who celebrate the
little moments in life!

"I love this book! The stories make you feel you are right there!" Teresa Proscewitz, City of Los Angeles Dept. of Recreation and Parks, L.A.

"'Pawprints' is a potpourri of charming little stories, with a surprise on every page...Vivid observations of life, written from a very different, engaging point of view."
Sierra Club Newsletter

More Reviews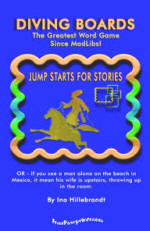 Available only from us
$14.95 "I picked up 'Diving Boards' and knew it was one I had to own and send to my friends. It's joyful and though-provoking...One of those gems you pull out when you want inspiration."
Annette Darrell, Manager, Tribal Arts Gallery, Carmel, CA