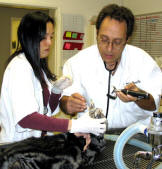 Dr. B operates on feline patient with Dr. Rika Miyazaki

Dr. B examines Diego as owners Suzanna and Stephanie look on

Owner Martha Moraga pauses in the study of doggie breeds on wall chart to celebrate Foxy's healthy check-up at Center-Sinai

From left, Center-Sinai vet techs Carlos Ramirez, MIchael Lauhglin, Alex Lujan

Vet Tech Ryan Mangan prepares spay pack


Emily Rangel, Office Manager,
checking patient records for doctors


Dog Groomer Stacey Kachman carefully covers doggie with suds


Staff Supervisor Oscar Tejada feeds injured hummingbird he rescued with syringe
Dr. Barry M. Baum achieved his Doctor of Veterinary Medicine from Cornell University in 1971. His undergraduate degree was granted by the New York State College of Agriculture at Cornell.


He has been the owner and Chief of Staff at Center-Sinai Animal Hospital, Los Angeles, California since 1979. The hospital has been serving the Los Angeles community for over thirty years. Under Dr. Baum's guidance, Center-Sinai has grown from one doctor with a five person support staff to a six doctor practice with a support staff of thirty-five people. A full range of services from medical and surgical care to boarding and grooming is provided seven days a week. The hospital staff actively works with rescue groups seeking to find homes for dogs and cats.


In 1998, Dr. Baum founded and continues to serve as President for the Independent Veterinary Alliance.


Other professional alliances include memberships in the American Veterinary Medical Association, California Veterinary Medical Association, Southern California Veterinary Medical Association, American Animal Hospital Association.


Dr. Baum is also a Board Member of Create-A-Smile, Pet-Assisted Therapy in Los Angeles.


Prior to becoming the owner of Center-Sinai, Dr. Baum served as Associate Veterinarian for the Blue Cross Pet Hospital, in Pacific Palisades, California, and the Gaddis Animal Hospital in West Los Angeles.


His veterinary experience includes serving as the Developer/Builder and Owner of Crown Valley Animal Hospital in Laguna Niguel, California. From 1971 to 1975, he was Associate Veterinarian at Roberts Animal Hospital in Hanover, Massachusetts and then Relief Veterinarian at practices throughout Los Angeles and Orange Counties, California.


When he is away from Center-Sinai and the other work he's in which he's involved, Dr. Baum prefers to engage in activities with his family - wife Linda and grown children, Hillary, a therapeutic companion for special needs children, Stephen, a student at USC's Annenberg School, and Melanie, who plans to become a doctor. Their youngest, Fessel, is four-footed and covered in fur. She is the star of the first story in Dr. Baum's Critter Chronicles. Dr. Baum is a mountain biker, hiker, crossword puzzle solver and tournament competitor. As you'll see, he's a skilled writer of short stories and articles. Dr. B's also an avid reader, and a choir member at the Stephen S. Wise Temple and Crossroads School. Finally, he is a basketball enthusiast often seen at the courts at UCLA and USC.

Dr. Baum with wife Linda, holding Jacques, and Fessel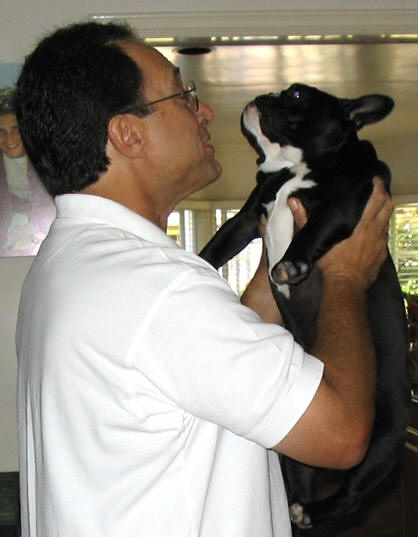 Right, Dr. Baum and Fessie at home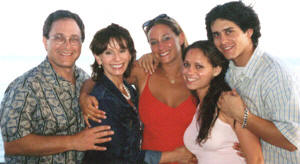 The family - from left Dr. B, Linda, daughters Hillary and Melanie, son Stephen






If you are lucky enough to live in Los Angeles when you need a really good vet, you can call to set up an appointment with Dr. Baum or another of the highly skilled staff at
Center-Sinai Veterinary Hospital. The number is 310-559-3770.
Check out the new site www.CenterSinaiAnimalHospital.com! More questions and answers appear there, with a link on our site, too, and more pet care information and special features! Just close the window after visiting, or hit your browser's back button to return to InasPawprints.