| | |
| --- | --- |
| | We developed a curriculum and written workbook, "The Student Prints." Our program expanded to include award ceremonies honoring our writers, and publication of books of their stories. You can find letters of support by clicking here. |
| | The first after-school program was begun at the suggestion of Ms. Carolyn James, Director of Child Care Services for the City of Los Angeles Department of Recreation and Parks. |
| | |
| --- | --- |
| | Ms. Dahna Hall, Director at Baldwin Hills Child Care Center, requested the program for her youngsters. At her suggestion, we conducted a summer camp "Pawprints Literacy Academy," working with off-track and vacationing students aged 11 and 12. They read stories, wrote, and performed "Pawprints" for each other, staff and younger kids. Their stories are coming soon! You can read a sampling of younger kids' work here. |
| | |
| --- | --- |
| | The children had a terrible time. You don't want to do this at your home, Rec or Community Center, or after school program, even though kids like Wesley said, "I love these stories!" and Ms. Hall said: |
I want my kids to fall in love with reading. Pawprints, and the exercises that go with it, did that.
| | |
| --- | --- |
| | Over the course of the next year, we conducted weekly or bi-weekly classes among children of varying ages. Our classes included kids in first through sixth grade. And our program was then established in other Rec Centers in the City of Los Angeles. |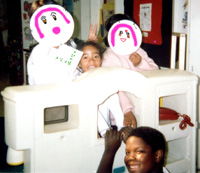 More kids who hate Pawprints Literacy Plus. Hubert Humphrey Rec. The kids above are performing "Attack of the Killer Window." Child Care Director, Ms. Valerie Moody.